June 28, 2015
Chuckanut Writers' Conference
I attended the 6th annual Chuckanut Writers' Conference on Thursday through Saturday and heard some of the best sermons ever. It was awe inspiring. I went to Conference #1 with Martin in 2010 and for a variety of reasons haven't gone back. This year names like Bryan Doyle, Erik Larson, and Elizabeth George drew me to submit my application and put aside the time. I'm so very glad I went.
Thursday evening began with the Chuckanut Radio Hour and some fine poets including Sam Green who is one of my favorites in the Northwest. I've heard Sam before at the Skagit Poetry Conference. He was there with his wife, also a poet and others as well as the Radio Hour regulars and a band from San Francisco. It was a nice beginning.
On Friday, cookbook writer, Kate Lebo gave the opening address about authority and risking being wrong if you want to get anything really right. After, I attended an interesting workshop given by a physician/fiction writer, Carol Cassella who is an excellent speaker, who talked about facts and fiction and how important it is to get the writing close to real life. The afternoon keynote speaker, William Kenoyer, was quite an entertainer but the best of the day was the workshop with Elizabeth George who explained how she developed characters in her books and then put us through some really intense character development exercises.
But, the piece de resistance was definitely on Saturday. The whole day and every event was wonderful from the early morning sharing on the topic, "Why Write?" to the first session, an author's panel with Elizabeth George, Erik Larson, Carol Cassella, and Canadian Steven Galloway. Chuck Robinson from Village Books moderated the authors as they answered questions about their process, how it has changed over time, and about their writing life. What was enjoyable was watching how they interacted with one another, truly interested in questioning the way each other wrote and why they did this or that. It was a stunning hour and worth the entire conference.
And, then we heard from one of my favorite authors, Bryan Doyle, who basically preached an hour long sermon on the fact that everything is story and that everyone has a story. And, he told moving stories as he paced the stage. He was mesmerizing as he encouraged us to get our stories out no matter what the genre. He actually reminded me of several of Don's sermons over the years about our life stories. He moved me to tears at times. And, it was especially poignant after taking the long character development exercise with Elizabeth George where she helped us flesh out real characters with real lives and real events for our various stories.
Later that day, I attended a well planned and helpful workshop on Building an Author Platform with two editors and then heard Erik Larson on how to know when your ideas are actually a book. He had people pitch some ideas to him which he critiqued. Then, Elizabeth George delivered the final address of the day which was stunning. Her outline was: 1) Develop a process that works just for yourself and that reflects who you are. 2) Discover if you have the "fire power"to carry whatever you are working on to completion. "Fire Power" takes discipline (treating your writing like a job), a schedule that works in your own life, and sacrifice. She ended with 3) Have no regrets. If something else is taking your attention, maybe it is more important than writing. She has friends who are excellent published writers, but because of their life circumstances, other things (health, family, etc.) have taken their attention. If that is so, stop writing and stop feeling bad about yourself for doing that. During her talk she was very vulnerable about explaining how her early difficult years have often led to deep depression which has been alleviated by her creative endeavors. For her, writing is therapeutic and totally necessary. But, everyone has to decide for him/herself.
It was a wonderful two days, and I'm so glad that I was able to attend. It did fire me up. I want to try George's character development ideas and remember that I'm basically telling stories. I want to see if I can find the discipline or if other things are really just more important to me than writing. Lots of think about and ponder.

Posted by Marilyn at 2:12 PM | Comments (0)
May 6, 2015
There's No Place Like Home!
I'm sorry that you cannot leave comments on this blog. I was getting hundreds of spam posts each week, so Martin cut it off from comments. Please email me at marilyn@donel.net if you wish to comment. Thanks!
I am finally home from my trip -- I say finally since we took a taxi to Orly and then waited. And waited. And waited. Our small plane flight was very late (ritarde said the sign!). When it arrived, it was a much bigger plane and during the flight, our attendant said that we were missing our London to Vancouver flight. After landing, we had to be bussed into the main airport. We checked in as requested, and were sent to a hotel for the night, given receipts for dinner and breakfast, and a cute little package with a large T shirt, and a bunch of little items such as toothbrush and paste, razor, shampoo, etc. We were tired from sitting around in the airport all morning, so it was lovely to be in London where we could enjoy watching television in English once again. Actually, Barb and I got pretty good at French game shows which were on in our hotel lounge without sound. But, the only channel we could enjoy late at night was BBC and, believe me, you don't want to watch BBC two days before the election of the new prime minister. We did get to see pictures of Charlotte, the new royal baby with the rest of the world.
For some reason beyond our understanding, we were placed on Air Canada the next morning. I was delighted. After going to England on British Air, I can tell you that Air Canada is a step up (a long one). The electronics are far better, screens and sound clearer, selections more interesting, and the amenities better. Barb and I had paid to preorder our seats on British Air, so we were frustrated until we saw that we were going to share three seats because the plane wasn't full. Yea!!! Finally, we got much better food -- full lunch and treats or snacks every few hours -- ice cream, cookies, etc. etc.
Now I'm trying to readjust to another time zone. The first day I went to bed around 9:00, was awake at midnight and finally dozed until about 3:00 a.m. when I just gave up and got up. I made it until 9:30 last night and slept (mostly) until 6:30 this morning, so I'm making progress. It is beautiful here, so that lifts the spirits! The final few days in Paris were mostly rainy.
It is lovely to be home. It was an adventure and a fun vacation. Barb Storms is the easiest person in the world to be with. She is unflappable -- and a good and fun companion. She kindly spent time with my relatives and we have long known that we compliment each other since I'm right brained and she is left brained. She found things that I lost and I always have a sense of the larger picture. We've done enough traveling together (grad school, Maine, yearly to Ashland) that we are comfortable together. And, since we agree on most things political and religious, we can laugh at the same jokes!
How very lovely to be home!
Goodbye England!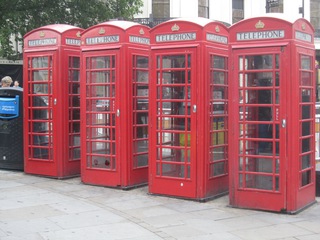 Goodbye Paris!

Hello Bellingham!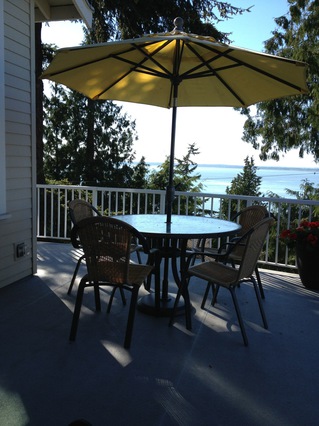 Posted by Marilyn at 1:52 PM | Comments (0)
May 2, 2015
The Left Bank
Today we took our second walking tour -- this time of the artists and writers of the Left Bank. The tour guide was originally from California and went to Paris with a software company and never left. He was quite knowledgeable and very enjoyable. We wandered through the streets, Le Jardin Luxenbourg in the middle of the area, and by the Senat and the mint. We saw where many of the artists lived, heard stories about Gertrude Stein and her siblings who were art collectors, saw where the popular drinking areas were and the original store for Shakespeare and Company which was evacuated quickly when the Nazi's got mad at the owner and were coming back to ruin her store. We heard story after story and the time flew by very quickly as we walked for the two hours.
Barb and I hopped the Metro back to our hotel, caught a second breath and headed for Rue Cler where we shopped for some souvenirs and sat and drank some coffee. Well, mine was a chocolate and coffee with a big cup of whipped cream. It was quite decadent. Then we meandered back to the hotel where I plan to print out our boarding passes for tomorrow. Tonight our group is going out to dinner.
We've had a great deal of time on our own. Although we have chosen to eat dinner several nights with others, we have had enough free time for the two of us to meander here and there. I finally feel like I have a sense of the place we are staying and the area around it. I have just a small sense of other places -- but that is what happens when you find yourself in another country. It just takes time to get oriented.
Tomorrow we head for home.
The French model for the Statue of Liberty in the park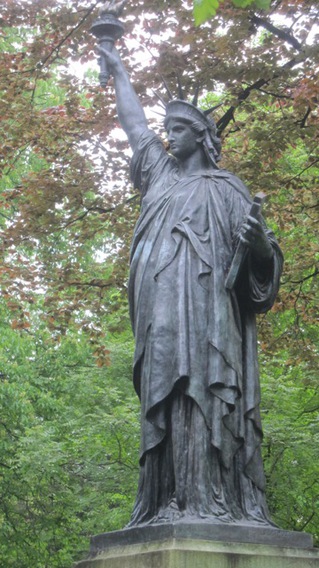 A Few other Places on our Tour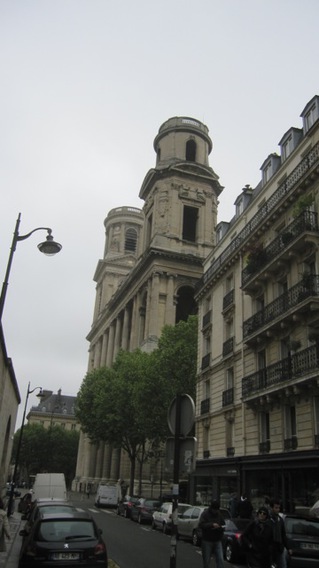 Coffee in the Rue Cler area

Posted by Marilyn at 7:51 AM | Comments (0)
May 1, 2015
A Rainy Day in Monet's Garden
Just got back from Monet's Garden in Giverny. It was a lovely experience even in the rain. Second day of continuous rain didn't slow us down. The gardens were lovely and just a tad droopy in places -- mostly not affected at all by the rain. The house was fascinating and the water gardens beautiful also. Afterwards, we had coffee and tea in the restaurant behind the house and I had a lovely tart tatin. Our group had a chartered bus, and went into Vernon afterwards and sought out various restaurants. I had an omelet and frites. It's May 1st so most businesses were closed for the holiday except for the flower shops that were doing good business for May Day.
Now, back at the hotel with our feet up. Not sure what tonight will hold but I know I'm not too hungry at the moment. Tomorrow morning we are going on a walking tour of Hemingway's Paris. We'll have a free afternoon and get ready to depart on Sunday.
It's been lots of fun to get to know Paris.
Monet's Garden in the Rain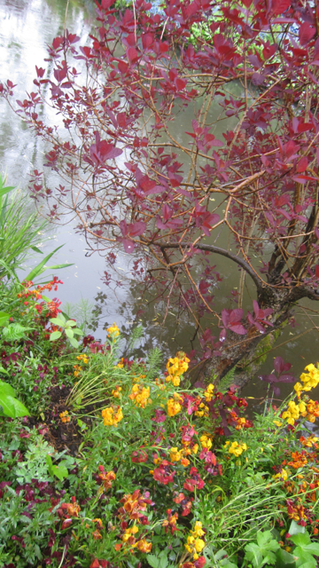 Posted by Marilyn at 6:45 AM | Comments (0)
April 30, 2015
Wednesday and Thursday in Paris
We never made it over to the Eiffel Tower the other evening -- we had dinner with some friends in our group and went back to the hotel and crashed. On Wednesday we went as a group to the Picasso Museum which was really a lovely experience. Dee and Chuck then herded us all over the a favorite falafel place that they found on Rick Steves. it was completely packed and we all had a marvelous lunch. I had lamb and pita and a few undefined things in the sandwich that were delicious -- we decided it was eggplant. Then, a few of us headed over to the Jewish Museum that was in the same area -- Barb and I were going, and Chuck and Dee and a woman named Lee joined us. It was the story of the Jews in France, Jewish culture in general, and people who were notable over the years in this country as well as how the culture varied in customs from country to country. After grabbing some coffee in a local shop, we headed for home base. A few of us decided to try a local restaurant owned by a very young man, and we had a fantastic meal.
Today the rain fell -- first uncomfortable day in our whole trip. Both Barb and I bought new umbrellas since mine disintegrated in the wind and rain. We meandered over to the Eiffel Tower and bought a day's ride ticket on the Botobus which is a boat that you can jump on and off at different areas and ride all day if you wish. We got off and went to the Orangerie Museum which also has a collection of impressionists. It is small and known for its Monet water lillies which were underwhelming. Tomorrow we are going to Monet's garden which should be more interesting.
We then found a lunch place in the park and meandered up to the Louvre but didn't go inside. Later we went to the terrific Shakespeare and Company and wandered through their books, decided the lines were too long at Notre Dame, sat in a restaurant and had coffee and dessert before we jumped back on the boat and headed for home and hot showers to restore ourselves. We had an uncomfortable experience with a bicycle driver who quoted us fifteen Euros if he took us for a ride from the Eiffel Tower to our hotel, later told us he said fifty Euros, and had a tantrum when we refused to pay. But, we got through it, left him in a snit and headed back to our hotel. After our hot showers, we again went to the same restaurant we loved and joined some of our group for dinner. The young owner gave us all aperitifs for being such good customers. We love it so much, we might even go back tomorrow.
Our Lovely Little Hotel

Barb and the Eiffel Tower on a Very Rainy Day

Posted by Marilyn at 12:51 PM | Comments (0)
April 28, 2015
Ah Paris in the Spring!
We were concerned upon leaving England that the weather information said that Paris would be rainy. And, it was a bit the first day -- but somehow it has been pretty sunny since then. It seems like there are a variety of opinions online about Paris weather.
We arrived after a long day of train rides that were quite palatable since we sat in my breakfast room a few months ago and wisely chose the comfortable seats with free food service. Smart move on a day that was spent on the trains. The chunnel part of the Eurostar was only about 20 minutes so you would never know you were under water. We met Chuck and Dee and the rest of the group at 5:30 and walked to a wonderful meal in a local restaurant. The next day we went on a two hour walking tour around the area painted by the impressionists. The guide was knowledgeable and showed us many places were the painters lived and/or painted during their time in Paris. After lunch, Barbara and I strolled up Rue Cler -- a shopping area popular with people who live around our hotel in the 7th arrondissement. That night our group went over to Sainte Chappell for a wonderful Vivaldi concert. All in all, yesterday we rode about 12 different Metro lines so I have definitely seen the underside of Paris.
Today, we left after breakfast to go to the Musee D'Orsay where we could feast on all the Impressionist paintings and feast it was! I especially loved the Van Gogh's. It is fun to see the paintings you have studied in school in real life. It is a fantastic museum. Tonight, we are going to walk over to the Eiffel Tower which we can see from our hotel and then meander to dinner. The best food we have had so far was the first night -- so we're going to try that restaurant again. I must say that the England restaurants are way ahead on my score card.
Our room is small, but cozy and comfortable. I love that fact that it has a tall, floor to ceiling, window that actually opens on a little square facing other buildings with many staircases. The bath is large and we are on the 6th floor. The breakfast buffet at the hotel is adequate with lots of choices. Just not very exciting.
I guess this brings Paris up to date. Tomorrow we head for the Picasso Museum and Thursday we have a free day that we are still contemplating. There are many choices -- so many museums and cathedrals! Stay tuned!
Multiple stairways out of our hotel window

Barb in Parc Monceau before our tour

Our Fellow travelers listening to our tour guide

A Degas dancer in the Musee D'Orsay

Posted by Marilyn at 6:55 AM | Comments (0)
April 25, 2015
A Potpourri of Experiences
My writing can't keep up with the trip. We are busy day and night. Had a fascinating trip to see some family landmarks with my cousins during our time in Stratford on Avon. The most interesting part of the day was a trip to a pen museum. More on that later since it was pretty fascinating. Then, after dinner we had to pack to take the bus and train to Bath. That evening we went to dinner and took a bus ride around the city so Barb could get oriented. On Friday, we went to the Roman baths in the morning and my friend, Hope, came in the afternoon. We went to the newly refurbished Holburne Art Museum and then over to The Royal Crescent, 18th century circular apartments, to tour a restored unit -- these were the places wealthy people kept for their stays in Bath during the season. Following that we had dinner at the Jamie Oliver Italian Restaurant and walked back to our place to say goodbye to Hope. Today, we boarded the Mad Max tours and headed to Stonehenge, Avenbury (more stones), and the through a few quaint Costwald towns to meander. This evening we are once again getting ready to embark upon our next experience -- leaving tomorrow morning really early for Paris.
I have found the trip just a taste of the places we have stayed. It seems like we just get somewhere and it is time to leave. It is difficult to pick and choose what you wish to see when you know there is so much more. At least we'll have a full week in Paris, and I think that will be great.
I wanted to get caught up with the blog, but I'll have to augment these experiences when I have time -- especially the day with my cousins. Tomorrow i'll be traveling the entire day.
Barb and Hope Outside the Holburne Art Museum

Barbara and I Made Pen nibs at the Pen Museum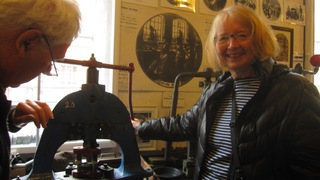 Posted by Marilyn at 1:25 PM | Comments (0)
April 21, 2015
No Time to Write
Such a busy trip -- there's no time to write. Yesterday, we arrived at our charming inn in Stratford-Upon-Avon after a very, very long day. We were greeted by the lovely proprietors who welcomed us and our guests, my second cousins with whom we spent the day. They then served all of us tea and cakes and gave us a rundown of the inn including a huge, old fashioned key which we can use on our room. This place has every single bell and whistle that anyone could ever want including hot water bottles, lots of books in the room, tea service, towel warmers, etc. etc. etc. There motto is to treat every person as if she/he were a private guest. And, you can choose breakfast from a huge list that includes just about everything you can think of like eggs of any kind, waffles, pancakes, salmon, etc. etc. You have to order it the night before and tell them about when you will be down to eat it. A small price to pay.
We arrived here about 10:00 in the morning after catching the fast train to Coventry from Euston Station. My cousins, Pat and husband Peter, picked us up and we headed straight for Wales. We didn't go too far into Wales, just to a village near Llangollen, where Pat's brother, Roy, met us. We lunched together and changed family tales before walking the towpath along the canal and over the viaduct chatting away, watching the boaters on the canal, and getting acquainted with each other and the beautiful valley stretching out in every direction. It just whet our appetite for Wales. We said goodbye to Roy who went to his home up north while Pat and Pete delivered us to our inn as mentioned above. Before they left, we went out to a delicious British dinner where Barbara had a meat pie and I had a wonderful, succulent duck.
Today, we have been sightseeing in Stratford where it is all about Shakespeare. We took the touring bus to Anne Hathaway's home and Mary Arden's farm. Then came back into town and had lunch at the Swan pub across from the theater, bought tickets for a play tonight, meandered through the Holy Trinity Church to Shakespeare's grave, and then to his daughter, Susanna Hall's home in town, and shared a cup of tea and coffee in the gardens. Now I'm sitting on my comfortable bed writing this -- although we will be leaving soon for the theater.
It is absolutely gorgeous here. We rode the double decker touring bus in the sunshine and had to take off our jackets. The daffodils and tulips are out and we couldn't ask for a better environment. Tomorrow we'll go to a few museums and Pat and Pete are going to take us to a few places where our family originated. Life is good.
The Canal and Pleasure Boats

My Cousins - Peter, me, Pat and her brother, Roy

Our Breakfast Room

Barbara in Front of Our Inn

Posted by Marilyn at 9:36 AM | Comments (0)
April 19, 2015
Three Days is Not Enough
This is our final day in London, and there is so much we didn't do or see. I guess that is always the way it is. We spent the whole morning going to a friend's church. Ana and Tod Gobbledale were two of Don's favorite people. Ana's parents belonged to our congregation after her father retired from the ministry. Ana and Tod were in Africa with their two children and would often visit our church when in the states. They have been pastors in London for five years at St. Andrews United Reform Church in Brockley. It took over a half hour by taxi and took us into some areas we would never usually visit which was fun. After the service we caught the bus back into the city and back to St. Paul's church.
Barb and I took Connie to the restaurant we visited on Saturday, and we had another delicious lunch after which we wandered over to the Globe Theater that was besieged by hundreds of Londoners who were able to get into the theater free because they were celebrating Shakespeare's birthday. Instead of standing in line for a couple of hours, we chose to walk over to the Museum of London which was a few blocks away. It was a small, charming natural history museum that pictured London over the years, the early natives, the conquerors, the growth of the city and the way the city developed.
We took the tube back to our hotel, got onto their computer to make reservations for tomorrow morning when we take the train from Euston Station to Coventry to meet my cousins. We were happy to have dinner in the hotel since we were tired from a long day. Now we're ready for bed.
Onward to the next adventure!
The Gobledale's Church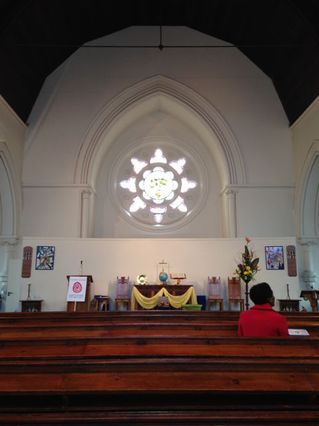 A Wonderful Rocket Salad on A Spanish Cheese

Barbara Wishes Shakespeare a Happy Birthday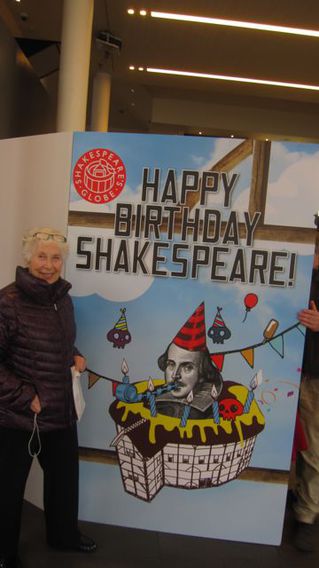 Posted by Marilyn at 1:58 PM | Comments (0)
April 18, 2015
Back to England
How lovely to find myself back in my mother's birth place. It took me years and years to get here and now you can't keep me away. My friend Barb and I flew into London yesterday on British Air out of Canada. The Heathrow Express got us to Paddington Station and a taxi to our Bloomsbury Hotel. We are staying at the Grange White Hall just around the corner from the British Museum. We spent a few, sleepy, moments at the museum since we didn't want to go to bed early. After running into my niece, Connie, who's on vacation from the Peace Corp. We all came back to the hotel for dinner.
Today, we set out on a trek to buy Barbara a new suitcase since her's was damaged on the flight. Then we took the tube to St. Peter's to wander the grounds. We found an absolutely wonderful little tapas bar on the Thames for lunch and followed it by walking across the Millennium Bridge to the Tate Modern. At 4:30 we walked back across the bridge and went to a beautiful Evensong at the cathedral. Now we are back at the hotel after a pasta dinner at local Italian restaurant. Tomorrow we are going to St. Andrew's United Reformed Church in Brockley where the Gobledales are pastors. Ana and Tod have long ties with our Bellingham congregation since they were missionaries in Africa when their children were young.
One more day in London before we head for Stratford-Upon-Avon. Onward and upward!
It Was Windy on the Bridge

A Fantasic Restaurant

The Beautiful St Paul's Cathedral

Inside During Evensong
Posted by Marilyn at 3:32 PM | Comments (0)